Sound
As a DJ and sound artist, I work primarily with field recordings, vinyl records, and ripped youtube videos and in the vernacular of queer club music esp. disco and Chicago house music.
"Wet Cement" [listen here] mixes the sounds of the Chicago neighborhood of Hyde Park (my home) with techno and club music. Outside and inside; public and private; hard and soft; sound and music; seal your name; is foundational.
"Wet Cement" was mixed live on Radio Dada on WHPK 88.5 FM on 2/5/19.
The sounds of Hyde Park were recorded in collaboration with Marina Resende Santos and Maya Nguen, as part of ongoing investigation of what it does to record a field.
Excerpts from "Cruising Utopia" performed on 1/26/19 at the opening of Entanglements at The Yards Gallery (curated by Her Environment)
Sounds by Sasha Tycko
Visuals by Sara Goodman
"Cruising Utopia" is an ongoing audio-visual performance collaboration between Sasha Tycko and Sara Goodman that asks questions about queer nightlife as a site of freedom and violence and the knowledge contained by bodies in motion. By addressing these questions in the form of a live DJ/VJ set, nightlife becomes both the content and context of the performance. The performance uses glitch art, sampling, and improvisation to investigate their relationship to queerness, otherness, failure, history, and narrative. The composition integrates interviews conducted by the artists with queer people about their personal histories in club settings with archival material and original and sampled music. The audience is invited to dance.
_
"Sasha Tycko (also known by their DJ moniker, Sasha No Disco) and Sara Goodman's DJ/VJ collaboration Cruising Utopia, a multimedia ode to queer nightlife, titled in homage of José Muñoz, brought the night to an energetic close. How does the immersive sensorial environment of the club tell the story of the night? Cruising Utopia gave life to the audiovisual technologies of the club as somatic archives, thrusting the audience into the dance floor of queer history. Performative staging of nightlife, with focus on archival videos, lights, sounds, anthropological interviews with nightlife attendees, which eventually devolved into a full-throbbed dance party. But the most memorable moment: when Tycko stepped away from their turntable and performatively danced/lip-synced to Alicia Bridges' I Love The Nightlife." -Noa/h Fields, "Dangling Wires: Artists Examine Relationship with Technology in Entanglements" published by Scapi Magazine
Performed on 09/29/2018 at ICUQTS (International Chicago Underground Queer Transcendence Symposium) curated by Trqpiteca
Listen to the audio track from "Crusing Utopia"
Photo by Colectivo Multipolar
—
"Sara Goodman and Sasha No Disco's VJ/DJ set, titled Cruising Utopia in homage to Muñoz, attempted to build a portal to that not-yet-here queer utopian ideality. Nightlife was not only the subject of story but also crucial to their form of storytelling, which eagerly embraced ambience, body language, distortion and genre dissonance (everything from disco to M. Lamar's implosive operatic goth gospel) as much as narrative." -Noah Fields, "Art on the Dance Floor," Scapi Mag
Sasha No Disco & Chaski - "Down 2 the Lake"
Sounds by Sasha No Disco
Visuals by Chaski
A 2 hr DJ set drawing from the vast archives of WHPK 88.5 FM and Chicago's record stores.
Chicago Artist + Archives Festival
Read/Write Library
Chicago, IL
2018
Photo by William Camargo
45 MINUTES MUSIC FOR MEDITATION, HEALING, NATURE SOUNDS, COMBATING CYNICISM: A Space Opera
The instrumental track to a space opera written and performed by Sasha Tycko and Kekule Benzene investigating apocalyptic thinking and a doomed desire for escape. Featuring Dr. Mae Jemison.
Space Opera, a festival of advanced artistry orchestrated by Presley Joy Paget
Rutcorp
Chicago, IL
November 13, 2016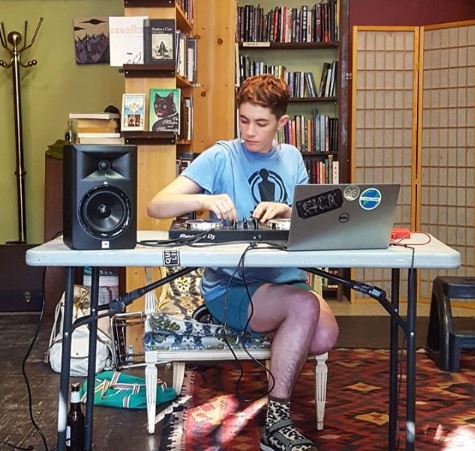 Live mix of sounds, songs, and excerpted interviews and texts that questioned the virtue of sustainability under conditions that are not only unsustainable but detrimental to life.
PAMELA Series
Space Oddities
Chicago, IL
May 27, 2018
NYE
Showboat
Chicago, IL
January 1, 2018
Photo by Armando Lozano
CRAWL INTO ME - Warmth (Live)
WARMTH
Live at The Corner's 1-Year Anniversary Show
The Promontory
Chicago, IL
2016